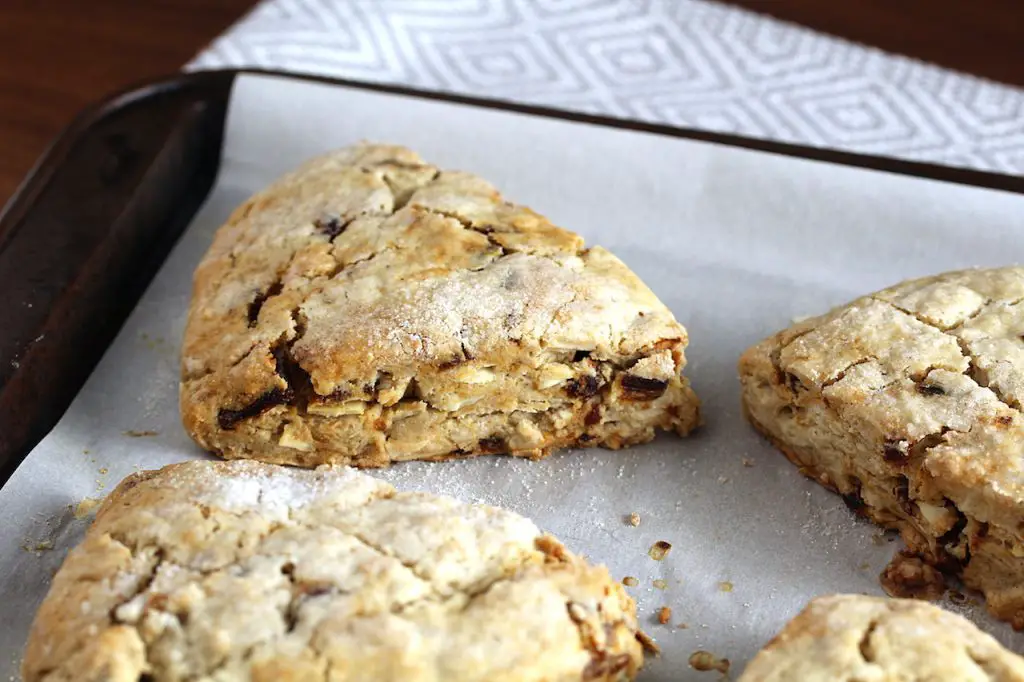 I tried making scones once or twice since my celiac diagnoses and I wasn't too impressed with them, so I put the idea of vegan and gluten-free scones in the back of my mind and never returned to it. Until a couple months ago. I was scrolling Pinterest, as one does, and scones popped up. Then came a craving that I just could not shake. I decided I should try making scones again and one especially cold morning I did, and they were amazing. I wanted to make sure it wasn't all in my head, so I made them for my parents a few days later and my mom, who is also gluten-free, and my dad, a gluten-enthusiast, both loved them. So, I thought I would share them with you, too! Vegan gluten-free cardamom scones, loaded with walnuts and dates!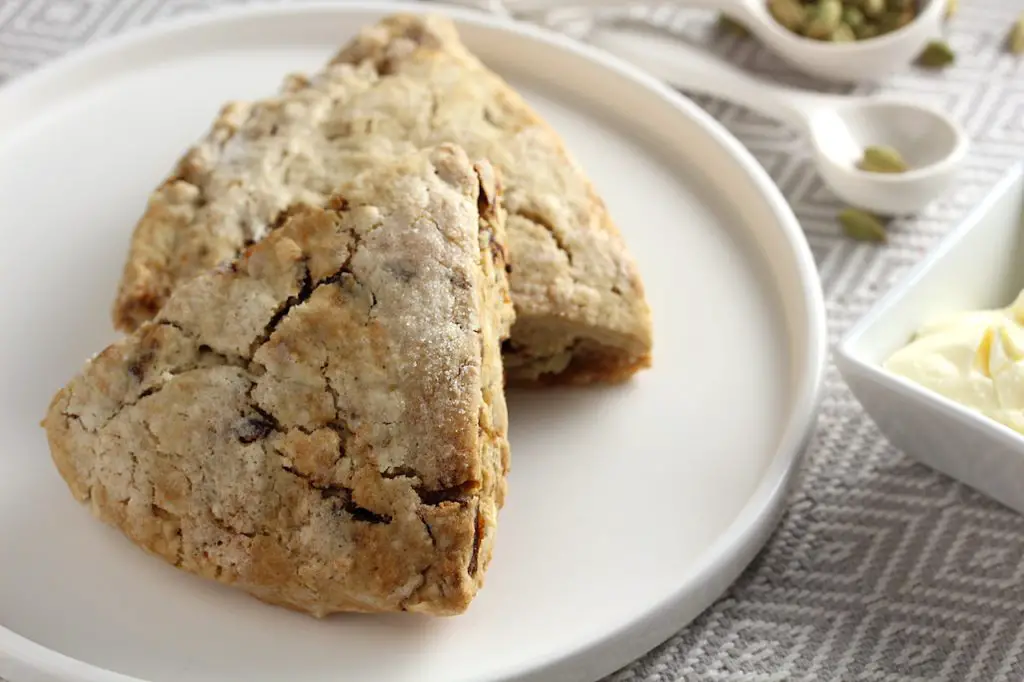 When I decided to make these, it was still so cold in Winnipeg! Just a couple months ago it dropped to -53 with the windchill! It was cold, so so cold. Freezing weather makes me want to stay in and bake all day long. And of course sit with a bunch of blankets, sipping tea, and eating those baked goods!
But, now it is almost April! It is finally warming up and I can go outside with my fall jacket on. I wish I had had a chance to post this recipe in February like I had planned, but life has just been so busy. The blog had to take a little hit as I try to get all my work and school commitments finished up. I really miss blogging though, so I want to make sure I schedule some time in for it. But, back to these amazing cardamom scones!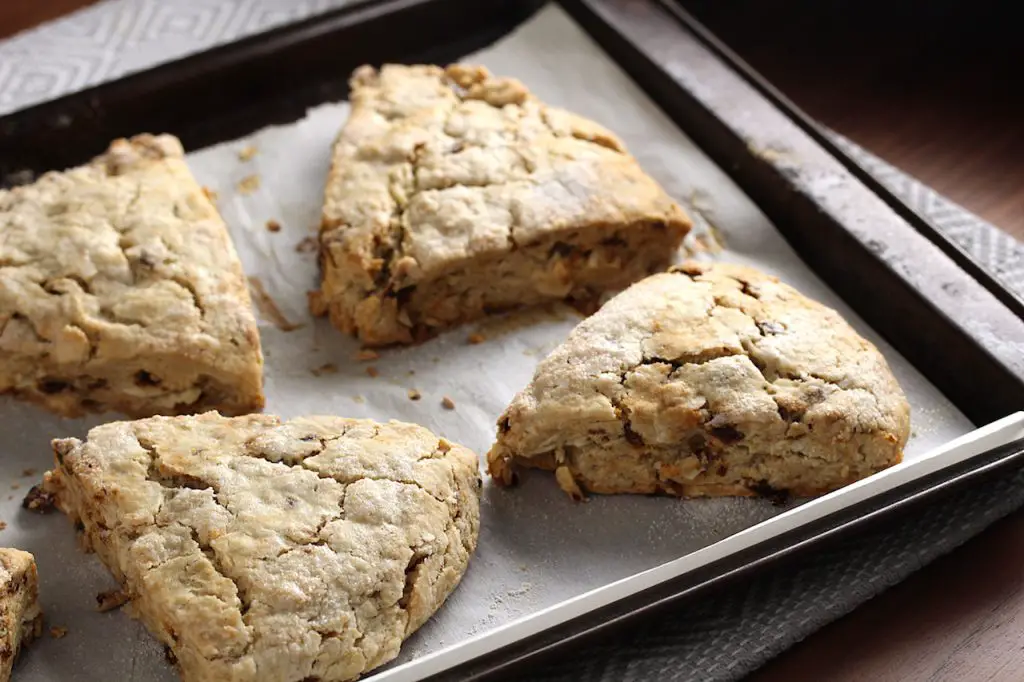 How to make Vegan Gluten-Free Cardamom Scones
Here are some tips for making these vegan gluten-free cardamom scones!
Cold vegan butter! Like when making a pie crust, you want to be using cold vegan butter!
Use your fingers to squish and flatten the cold butter into the flour.
Don't over-work the dough. You don't want to incorporate the butter perfectly into these scones, you want flat little pieces to remain in the dough!
Get in a cozy, baking mood! I know this sounds silly, but my baking always turns out better when I am relaxed and in the mood to bake.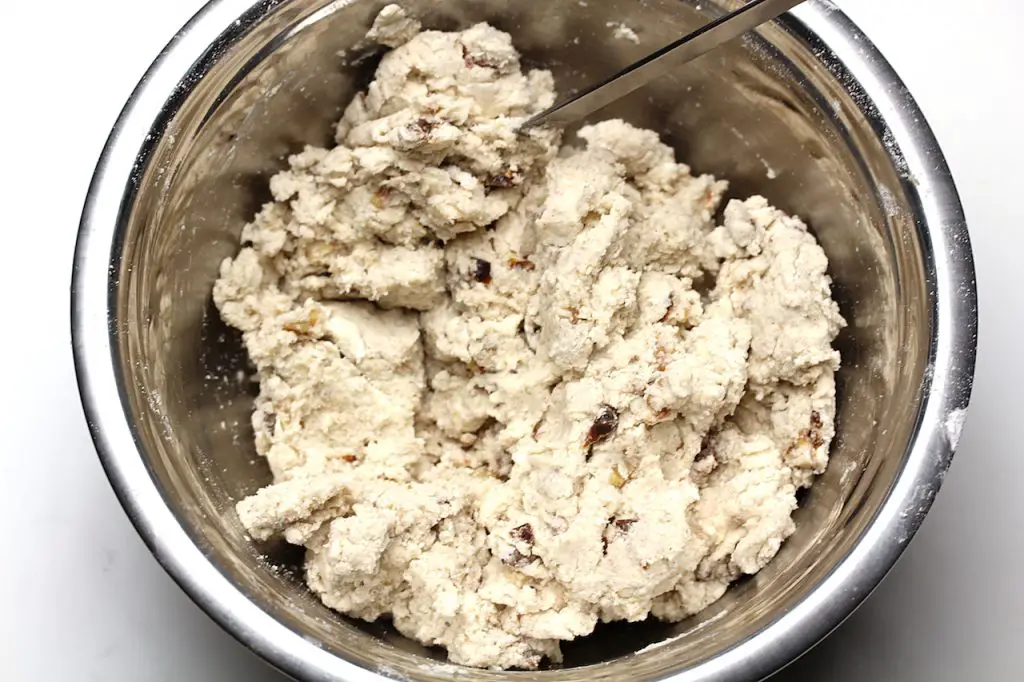 Assembling the scones!
Shape the dough into a disk that measures about 8 or 9 inches wide.
Sprinkle the four on top.
Cut the scones into pieces, like you would cut a pie.
Brush with coconut milk and sprinkle with sugar!


Check out other vegan gluten-free baking from the blog!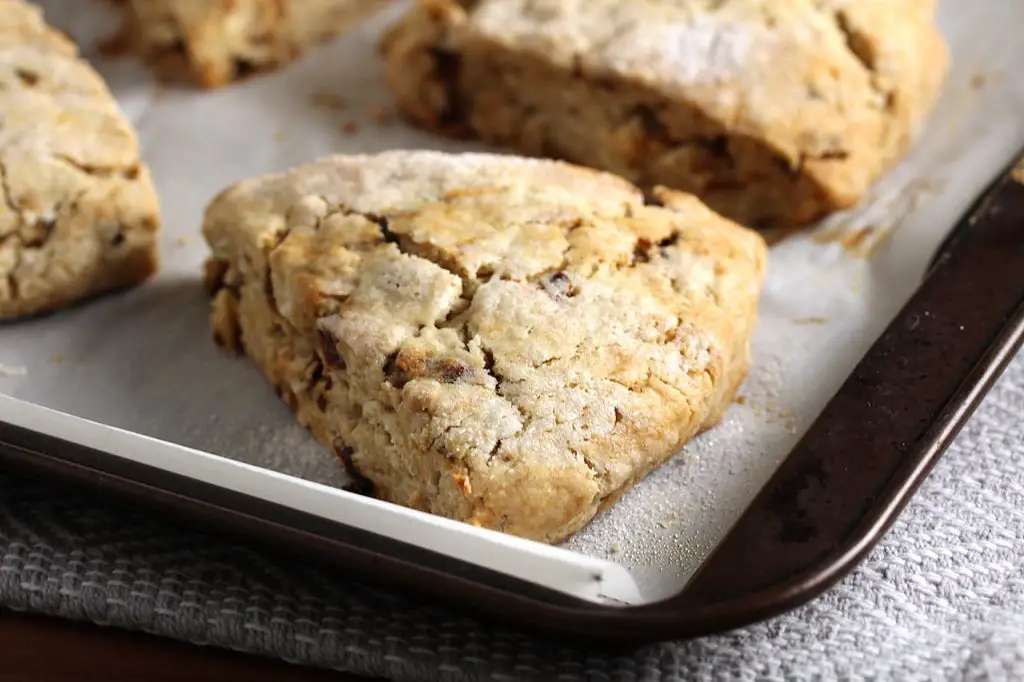 If you makes these vegan gluten-free cardamom scones, let me know! Tag me on Instagram or twitter (at)theveganharvest!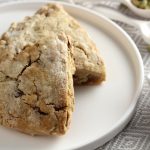 Vegan Gluten-Free Cardamom Scones with Dates and Walnuts
These Vegan Gluten-Free Cardamom Scones with Dates and Walnuts are perfectly spiced, sweetened, and delicious! They have a great texture and pair perfectly with a cup of tea or coffee!
Keyword:
Baked Good, Dessert, Gluten Free, Scones, Vegan
Ingredients
1 3/4

cups

Bob's Red Mill 1 - 1 GF Flour Blend

1/4

cup

corn starch

2

tbsp

granulated sugar

2

tsp

baking powder

1/2

tsp

baking soda

1/2

tsp

salt

2

tsp

ground cardamom

1/2

cup

earth balance, or other vegan butter, cold

1/2

cup

chopped dates

1/2

cup

walnuts, chopped into small pieces

3/4

cup

coconut milk, full fat from a can

2

tbsp

maple syrup
For finishing
1

tbsp

Bob's Red Mill 1 - 1 GF Flour Blend

1

tbsp

non-dairy milk

1-2

tbsp

granulated sugar
Instructions
In a large bowl, whisk together the flour, corn starch, sugar, baking powder, baking soda, salt, and cardamom. 

Cut the vegan butter into small chunks. Using only your finger tips, squish and flatten the chunks of vegan butter. The vegan butter shouldn't be completely incorporated into the flour, just make sure all the butter has been "flattened" into the flour.  

Stir in the dates and walnuts.

Make a well in the mixture and add the coconut milk and maple syrup.

Gently mix together until the dough comes together - don't go in there and knead it together with your hands! With gentle stirring, it will come together.

When the dough has come together, gently form it into a disk that is about 8-9 inches wide and wrap it in cling wrap.

Place the disk in the freezer for 10 minutes to firm up.

Preheat the oven to 400 degrees Fahrenheit and line a baking sheet with parchment paper.

Once the dough has chilled, carefully remove from the cling wrap and transfer it onto the the baking sheet. You may need to gently press the dough back together if there are any cracks. 

Slice like you would a pice to get 8 triangular scones.

Lightly coat the top of the dough with the 1/2 - 1 tbsp of flour. Then brush the tops with 1 tbsp of non-dairy milk and sprinkle with granulated sugar.

Bake the scones in the preheated oven for 20 minutes. Remove from the oven and let cool for at least 15 minutes before serving.

These scones are great with a pat of extra vegan butter!