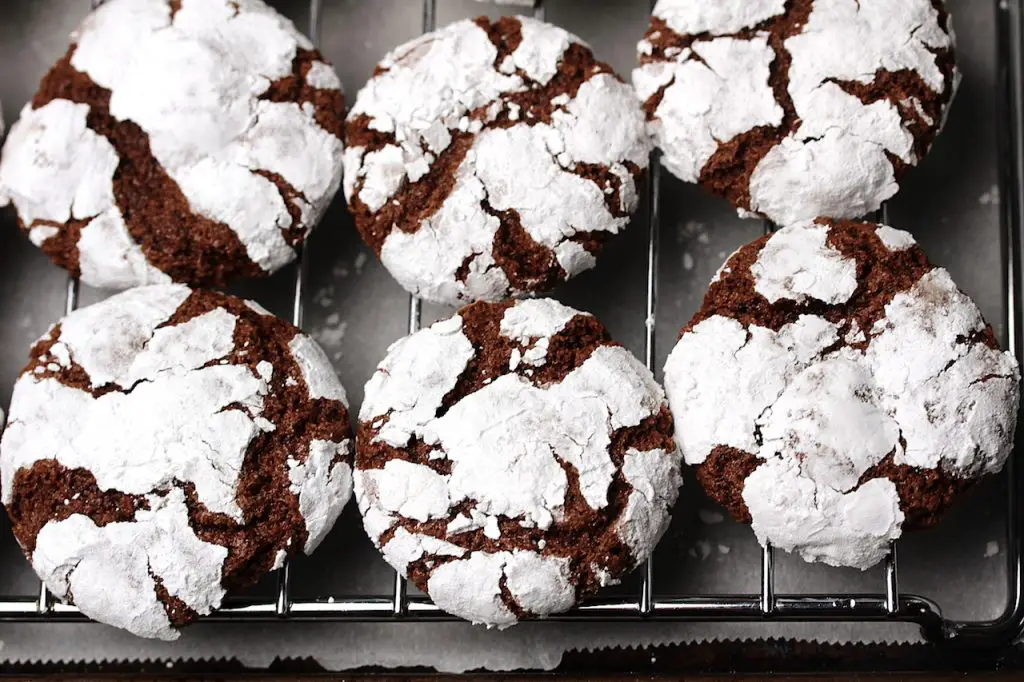 These vegan and gluten-free Chocolate Crinkle Cookies are gorgeous. Other than beautifully decorated sugar cookies, I think these might be the most aesthetically appealing Christmas cookie out there. They're essentially a sugar coated brownie cookie. All you have to do is roll your cookie dough ball in some icing sugar, and let it bake! The beautiful crinkling happens when the cookies slowly spread during the baking process.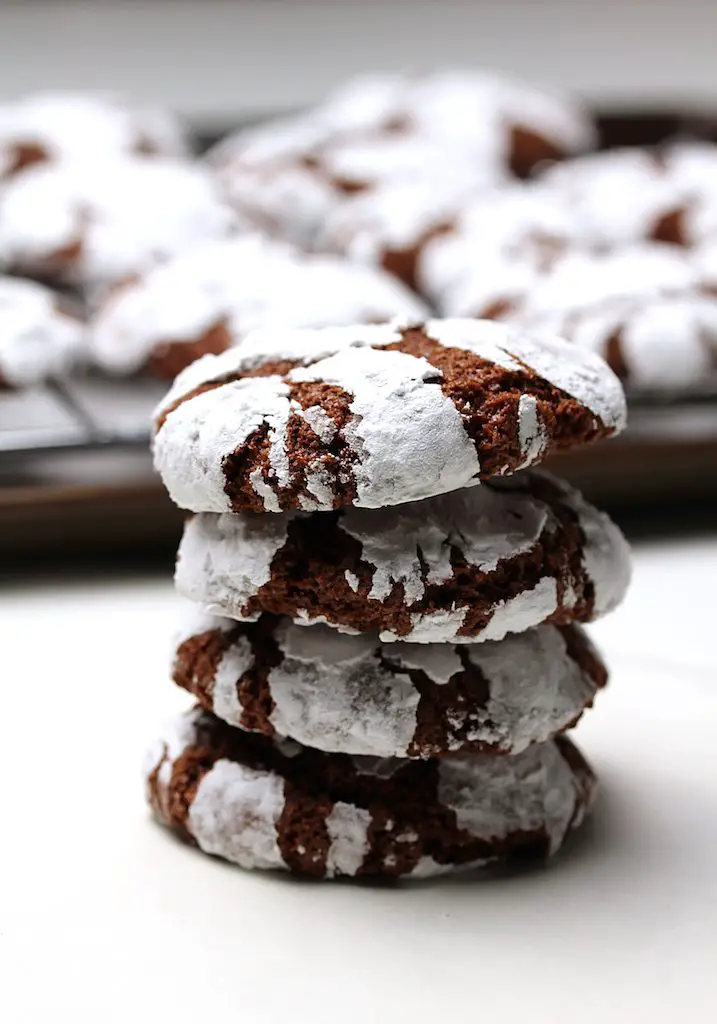 A Few Blog Updates
I've been working hard(ish) on my blog, but neglecting the recipe creating/posting a little because of it. If you use Pinterest, make sure to follow me over there as I am trying to be more active on Pinterest! It's been really helpful in bringing more traffic to my blog, which is amazing! In November I also made some blog changes, which included changing my theme over and playing with fonts and layouts. It's still not perfect as I am trying to learn as I go, but I am really proud of where I have come! It's really satisfying learning how to make changes to my website.
I've also added ads. I really hope you, as readers, don't mind! I'm trying to keep the ads in specific places and keep them to a minimum, but I am still learning how to use them so bear with me as I venture into this process.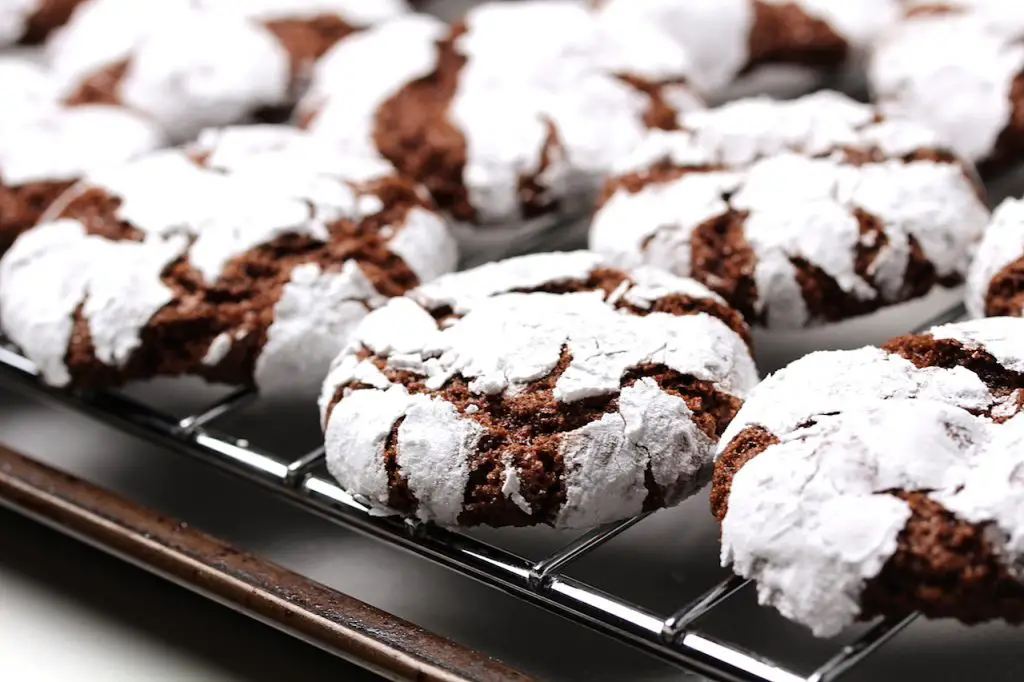 A Few Life Updates
I've been sad. I know! It sucks, especially around the holidays. Not quite sure why, because sometimes there isn't a why, but I just can't seem to shake that dark cloud looming over me all day. I think the worst is that I've been waking up sad, so I start tackling that feeling right away and by the end of the day I'm exhausted. There may not be as many Christmas/Holiday recipes posted this month as I had hoped. But I know you folks won't go without great recipes — there are so many amazing recipe developers out there to support!
My dreaded thesis is also looming over my head. Not quite sure why I can't wrap my head around writing it — okay, I actually do have an idea as to why, but not quite sure I'm ready to share that yet. It's weird cause the topic is amazing and I'm really passionate about it. So, please, send me all the positive thesis writing vibes this month if you can!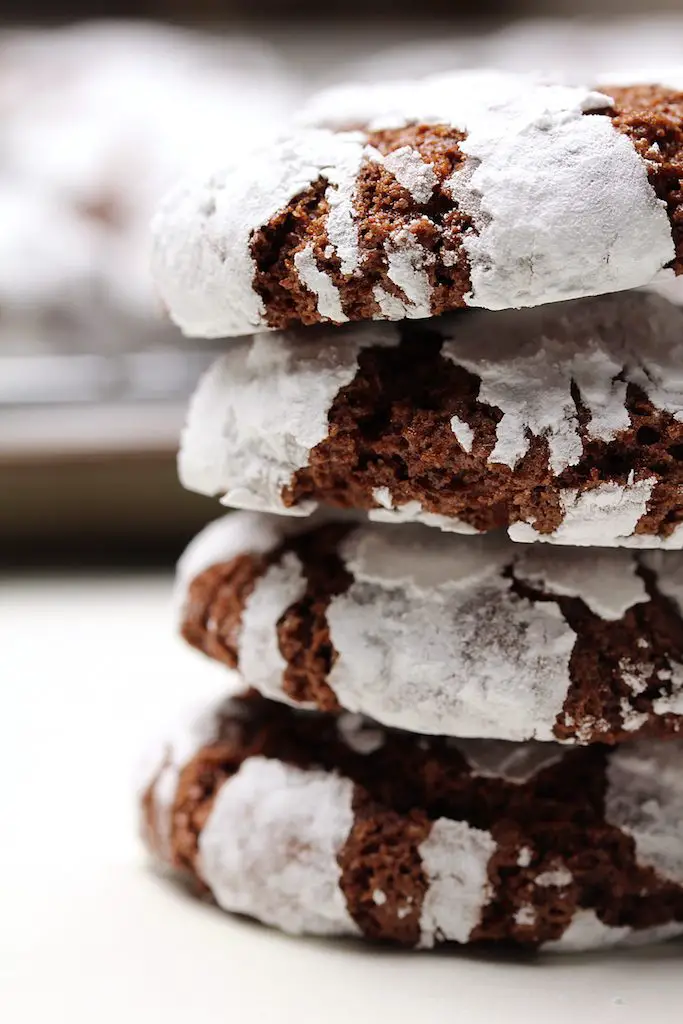 And Now Back To The Vegan Gluten-Free Chocolate Crinkle Cookies..
These are so great! I already mentioned how pretty they are, but they're also pretty easy to throw together. I never eat or make brownies, I am pretty fussy when it comes to them. They are never something I crave or even really think about, to be honest. But, these Chocolate Crinkle Cookies are making me re-consider my brownie aversion.
These have a nice little crunch on the outside and then are soft and chewy on the inside. They aren't too sweet inside, and so that icing sugar exterior doesn't make these too sweet. I didn't put them in this recipe, because I haven't tried it yet, but I would love to put mini chocolate chips in these crinkle cookies. Is there a thing as too much chocolate? Nope! Let me know if you make these into a double chocolate crinkle cookie — I would love to know what you think!
What Gluten-Free Flour To Use In These Chocolate Crinkle Cookies?
If you look at gluten-free flour blends, you might be surprised to find that they are not all the same. Take for example Bob's Red Mill gluten-free flour blends. The "classic" all purpose blend, in the red bag, has a large quantity of bean flour. Whereas Bob's 1 – 1 gluten-free flour replacement is largely rice flour.
This recipe calls for the all purpose blend, the bean-based blend in the red bag. I love chickpea flour, as you might know. But I use it in this recipe for a good reason. It gives a hearty, chewier texture to the cookie that you'd want from a brownie-like cookie. I'm not saying you shouldn't or can't try another blend — but I do really like this blend for this crinkle cookie!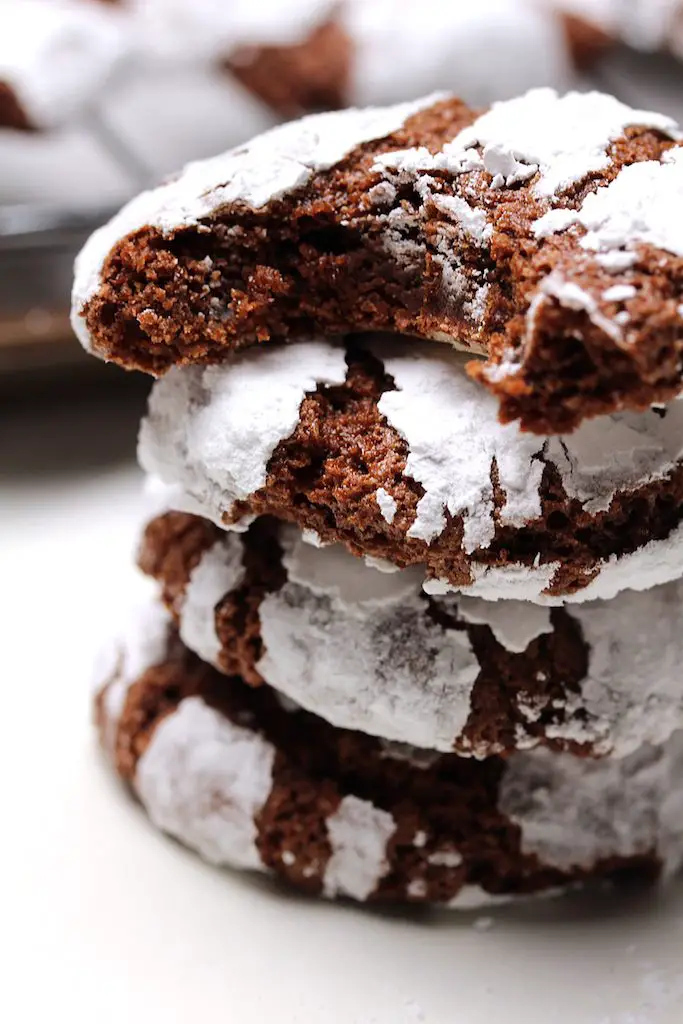 Bake and Be Merry, my friends!
I hope you enjoy these vegan and gluten-free Chocolate Crinkle Cookies! They make such a wonderful addition to a platter of holiday cookies.
I hope your days have been brighter than mine have been. And if not, I suggest reaching out to a loved one and baking a batch of these vegan gluten-free Chocolate Crinkle Cookies. If anything, maybe it'll be a distraction for a little bit.
Try some other vegan gluten-free cookies: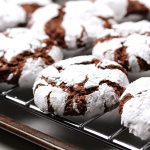 Chocolate Crinkle Cookie Vegan Gluten-Free
You'll never know that these vegan gluten-free Crinkle Cookies aren't a classic recipe! They're chewy on the inside and pack a tun of chocolate flavour!
Ingredients
1/2

cup

cocoa powder

1

cup

white sugar

1/4

cup

vegetable oil

1/4

cup

aquafaba (chickpea liquid)*

2

tsp

vanilla extract

1

cup

Bob's All Purpose Gluten-Free Flour

1/4

cup

tapioca flour

1

tsp

baking powder

1/2

tsp

I'm Free Gluten Replacement, or xanthan gum

1/2

tsp

salt

1/4-1/3

cup

icing sugar, for rolling the cookies
Instructions
In a large bowl, mix together the cocoa, sugar, and oil until well combined. 

Add the aquafaba and vanilla.

In another, medium sized bowl, sift together the flours, baking powder, Gluten Replacement or xanthan gum, and salt.

Add the dry ingredients to the wet ingredients and mix until combined.

Cover the bowl with saran and place in the freezer for 30 minutes to firm up.

Preheat the oven to 350 degrees Fahrenheit. 

Line a baking sheet with parchment paper and place the icing sugar in a small bowl.

When the dough has chilled, roll the dough into 1 tbsp balls and then roll in the icing sugar, making sure to coat the balls generously.

Place no more than 8 to 12 (depending on the size of your baking sheet) on the baking sheet. Don't flatten them!

Bake the cookies for approximately 12-14 minutes. You'll want them to have spread a bit, but still have a nice rounded top. At 12 minutes the cookies will be softer, if you keep them in a bit longer, they'll have more crunch on the outside (but still be soft inside!)

Let the cookies cool for a few minutes before transferring them to a cooling rack.
Recipe Notes
*If you haven't used aquafaba before, don't worry! It's just the liquid from a can of chickpeas. No lie! Its something you'd throw out anyway, but it actually acts as an amazing egg replacer.