I am officially starting to share the bread recipes I have been working on since Fall 2019, beginning with this Easy Gluten-Free Sandwich Bread! Sharing this has got me a little nervous to be honest! Gluten-free baking is hard, especially gluten-free bread. There are so many recipes I have tried that have failed. I don't blame the recipe developers for this at all – it's such a tricky science and takes a while to get the hang of. I think I've got the hang of it, and I really hope that the recipe and instructions in this post help you achieve the same great results!
Please read the post and follow the instructions to make sure you get a good loaf of gluten-free bread. And, I cannot stress this enough – please do not substitute the gluten free flour blend I have developed for another blend!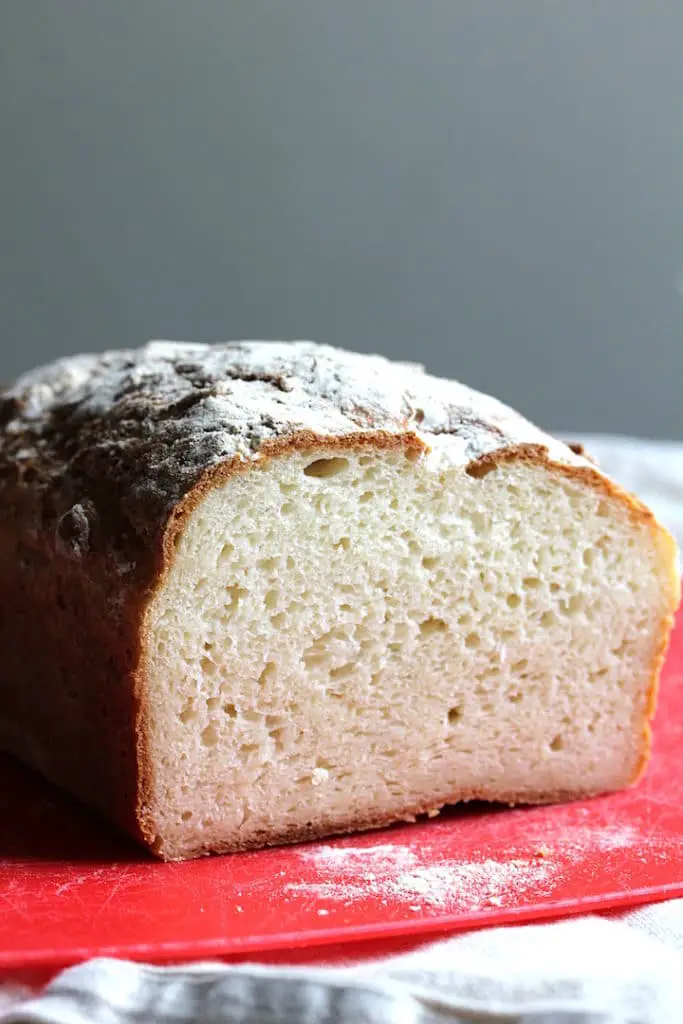 What Is in this Easy Gluten-Free Sandwich Bread?
The most important ingredient when making gluten free bread is the flour blend of course! I developed a Gluten-Free Bread Flour blend and that is what I have used in this easy gluten-free sandwich bread. Please, please, please use that blend. I cannot guarantee that any other flour blend will work. Gluten Free flour blends are all over the map — some are predominately bean flour, some are high in rice flour, some are mostly starch, some have xanthan gum and some do not. Sadly, if you want tasty gluten-free baked goods, you have to use exactly what the recipe says to use. If you use a different blend, you will not achieve the same results.
Other than the special flour blend, you've got the usual suspects: instant yeast, sugar, water, a little olive oil, and salt.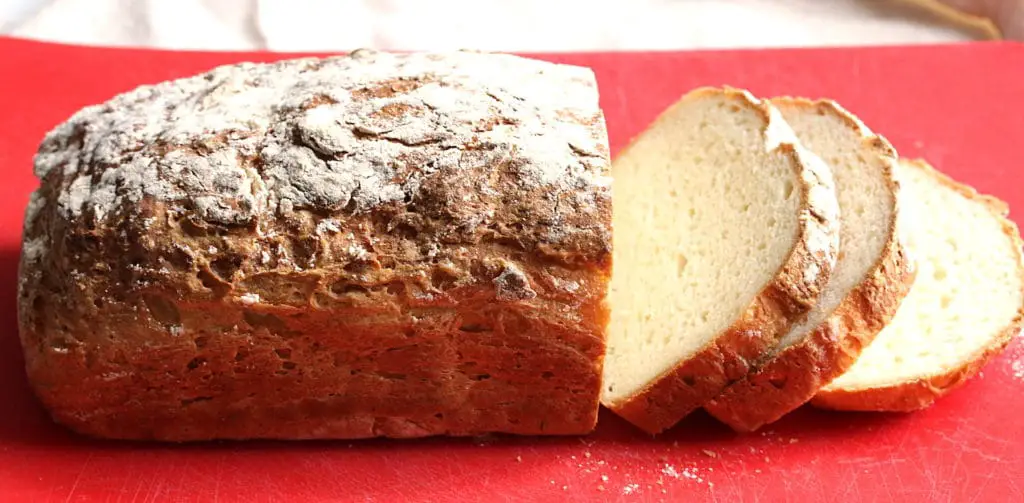 How to make this recipe
Weigh the flour: Precision is key. We all scoop and measure things out different, and flour is one of the most consistently incorrectly measured ingredients. In order to ensure best results, I have only indicated the flour in grams.
Hydrate the Flour: Gluten free bread is great in some ways — you don't need to worry about gluten! Regular flour bread recipes often have very specific instructions because the way you work with gluten will effect the texture. Many people think that because there is no gluten in gluten-free bread, you don't need to knead the dough or work it at all. But, you do. This dough is way too wet to knead, but you need to beat it for 5 minutes to ensure that the flours hydrate. I use a kitchen aid hand mixer with dough hooks, but my mom has had success using her food processor. You can do it by hand, but you'll need some strong arm muscles! After 5 minutes of beating, your dough should almost look like butter cream frosting in texture.
Let the dough rise: Like most bread recipes, the dough will go through two rises. The first rise will be in the bowl you used to prepare your dough. You want to let it rise 1.5-2 hours, until double in size. The time will depend on your environment. If it's a hot summer day and you have no AC, the rising time will be less. If it's nice and cool, it'll take longer. You'll then put the dough in a loaf pan and let it rise again for 30-45 minutes before baking.
Bake: Preheat your oven. You want to make sure it has heated properly. I turn my oven on to warm up when my bread is going through its second rise. Bake the bread in the middle rack, and have another rack at the bottom with an empty small roasting pan or something similar. When you put your bread into the oven, throw a cup of hot tap water into the pan, closing the oven door quickly after. This will create steam that helps the bread rise and get a crusty edge.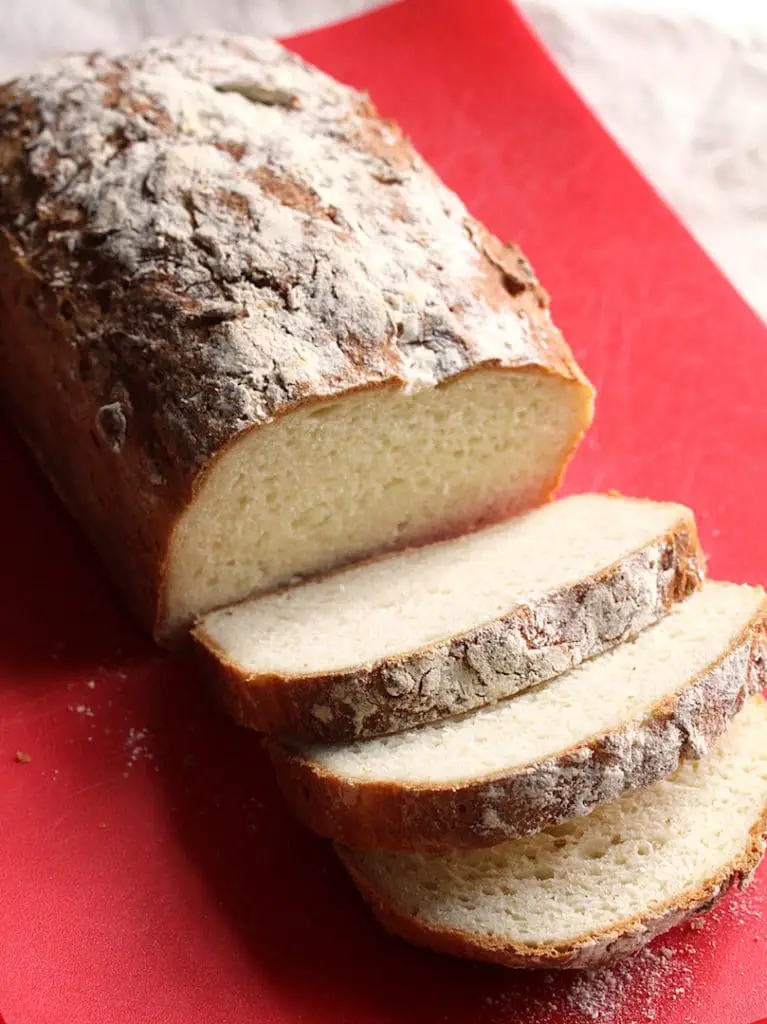 A Note about the Dough
This dough is wet and sticky. After you've beaten it, it will look almost like buttercream frosting. There is no way you could knead this dough without having to add TUNS of extra flour, which would inevitably ruin the bread's texture.
After the first rise, brush a spatula with oil or coat it with cooking spray. You'll fold the dough gently using the spatula and pour it into a prepared loaf pan. It won't pour into the pan like a cake batter, you'll need to use your oiled spatula to guide it into the pan. Then you can use your spatula to smooth the top. You may need to re-oil your spatula a few times during this process.
Cover the dough and let is go through it's second rise. When you're ready to bake it, you can sprinkle on some extra flour to the get the artisan bread look.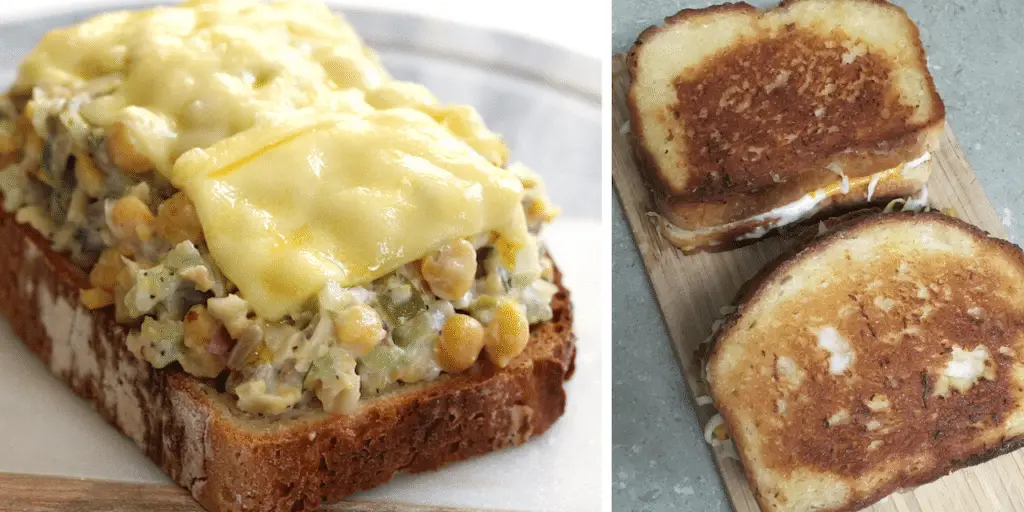 What should you make with this vegan gluten-free sandwich bread?
The options are endless! Well, not completely – but bread is so versatile, especially when it's good bread!
I've used it to make my favourite Vegan Chickpea Salad Sandwich and perfect grilled cheese (see above)! It would also be great for BLTs, morning toast with peanut butter, and French toast!
I haven't tried it yet but I think it would also make delicious croutons and bread crumbs for stuffing.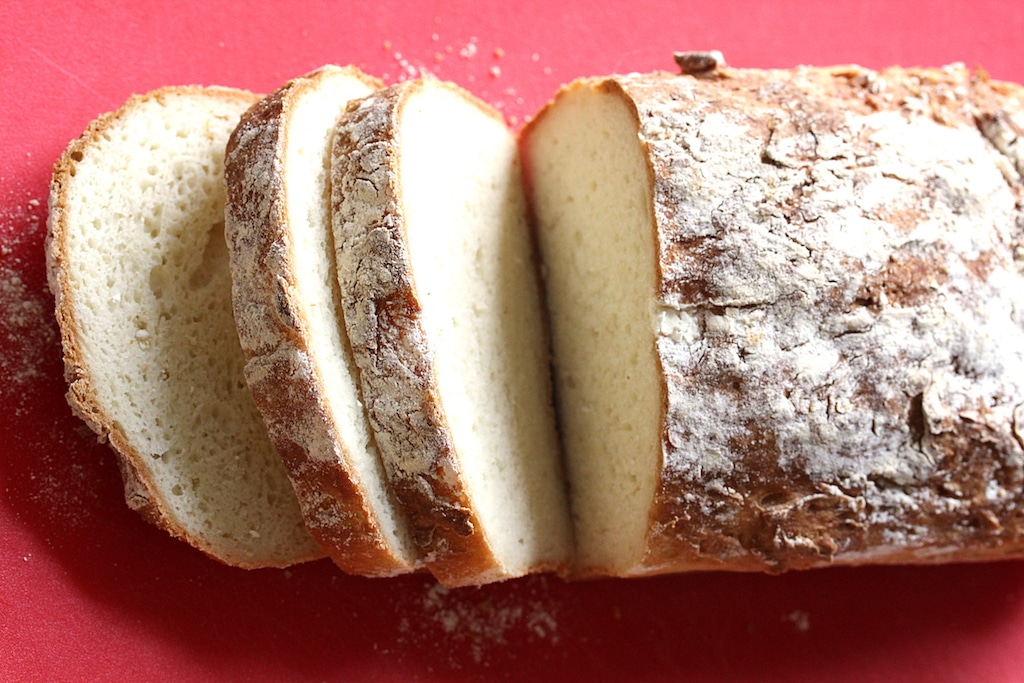 Check out More gluten-free baking recipes!
Make sure to use my Best Gluten-Free Bread Flour mix for this recipe! You will not receive optimal results if you substitute with another blend.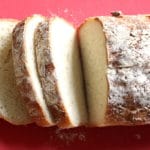 Easy Gluten-Free Sandwich Bread, Vegan too!
This easy gluten-free sandiwch bread is soft, fluffy, and holds together perfectly! Perfect for grilled cheese, toast, and even french toast!
Keyword:
Bread, Bread Flour, Gluten Free, Sandwich Bread, Vegan
Ingredients
520

grams

My Best Gluten-Free Bread Flour mix, plus more for dusting - see note for link, no substitutions*

10

grams

instant yeast (appx 2 3/4 tsp)

2

tbsp

sugar

2

tsp

salt

2

cups

water, room temperature

3

tbsp

olive oil
Instructions
Make the Dough
Whisk together the flour, yeast, sugar, and salt in a large mixing bowl.

Combine the water and oil in a measuring up.

Using a stand mixer with the dough attachment, or a hand mixer with the dough attachments, slowly incorporate the liquid with the dry ingredients at a slow speed.** After you have added all the liquid, beat the dough for a full 5 minutes. You will notice the texture of the dough change. This step is very important to ensure that the flour hydrates properly.

Leave the dough in the mixing bowl and cover with plastic wrap. Let the dough rise for 1-2 hours, until double in size. Rising time will depend on the temperature of the room -- if it's cold, it will take longer to rise. If it's warm, the rising time will be shorter. It is important that you do not underproof or overproof the dough.
Prepare the Loaf
Line a loaf pan with parchment paper and sprinkle a little flour evenly on the bottom of the pan.

Oil a spatula or cover it with cooking spray. Use the spatula to fold the dough (this is the equivalent of kneading it after it's second rise). If the dough begins to stick to the spatula, re-oil it.

Put your dough into the prepared loaf pan. The dough won't be thin enough to pour, so guide it into the pan with the spatula.

Oil with the spatula again and use it to smooth the top of the bread. Cover with plastic wrap and let the dough rise for an additional 30-45 minutes.

Preheat the oven to 450 degreed Farenheit with on rack in the middle and one on the bottom. Place a small roasting pan (or somthing similar) to the bottom rack. When you put the bread in the oven, you'll pour hot water into the pan to create steam. You want the oven to be very hot and at temperature, so I like to have it running a good 30 minutes before I plan to put the bread in the oven.
Bake the Loaf
Remove the plastic wrap and sprinkle the top of the dough with flour (not necessary, but makes it look more artisinal!) Have 1 cup of hot taper water ready to use when you place the dough in the oven.

Place the dough on the middle rack and quickly pour the hot water into the pan on the bottom rack. Close the oven door quickly. This technique creates steam which helps the bread rise and also get a nice crust.

Bake the loaf for approximately 40 minutes, it will be a deep dark brown.

Once the loaf has cooled slightly, remove it from the pan and place on a cooling rack. Let the loaf cool COMPLETELY befor cutting into it. If you cut it too early, the texture will not be as good.
Store the Loaf
After you have cut into the bread, store it in a paper or plastic bag. If using a plastic bag, do not seal it completly. You can also loosely wrap it in plastic wrap. It is best if eaten within 2 days, but I've kept it longer and it holds it's texture pretty well.
Recipe Notes
*I worked a long time to create a perfect flour blend and this recipe was designed specifically to work with this blend. I have not tried this recipe with other blends and cannot guarantee you will achieve the same results. There are sooo many gluten free flour blends out there and they are all so different. I highly recommend using my blend, linked above and in the post. 
**My mom has successfully used a food processor. You could also do this by hand but it will take a while!