Last night, I was watching the most recent Bon Appetite Test Kitchen Table Talks – "Pro Chefs Make 9 Kinds of Pantry Sandwiches." First of all, if you are not watching BA videos, get on that. Like, right now. I aspire to be Claire (she even watches Real Housewives!!). Anyways – I was pleasantly surprised when Chris made a chickpea salad as his pantry sandwich! Sadly, it was not vegan. But, watching the video made me realize that I have never shared my favourite Vegan Chickpea Salad Sandwiches recipe!
If you watch the video, you'll realize mine is actually much closer to Claire's recipe, but veganized. I'd love to do a show like Claire's Gourmet Makes, but call it Gourmet Makes Vegan and Gluten-Free! This is kind of like that: "Gourmet Makes Vegan and Gluten-Free: Claire's Pantry Sandwich"? Would you watch that?
Anyways – back to the recipe! Here is my favourite pantry sandwich: The Vegan Chickpea Salad Sandwich!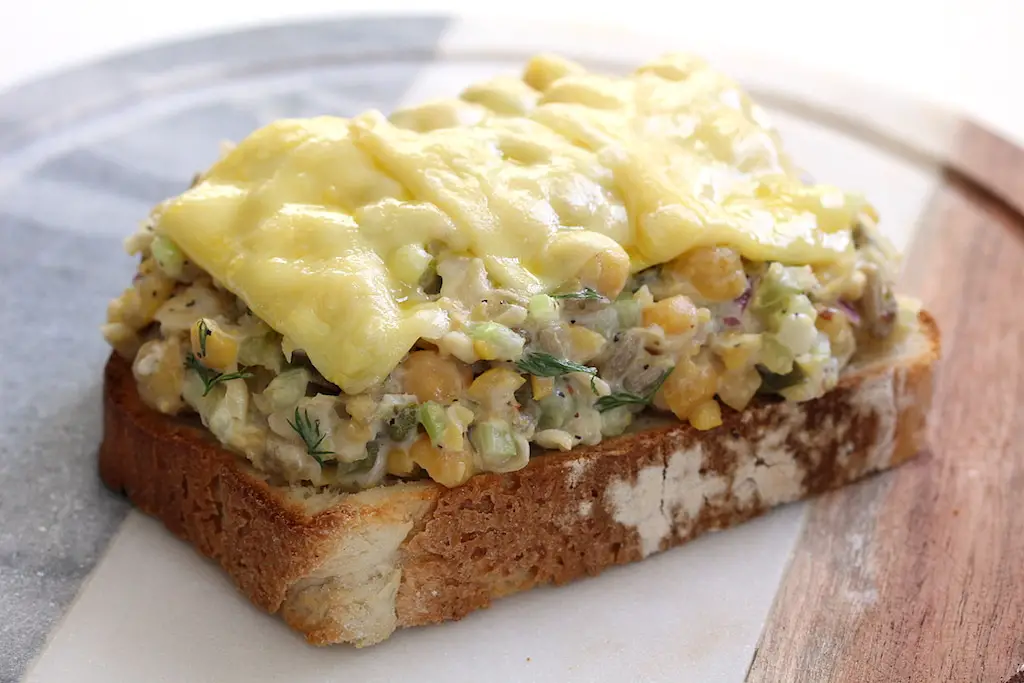 What's in Vegan Chickpea Salad Sandwiches?
This vegan chickpea salad is loaded with everything you'd ever want to put on a sandwich! Mashed up chickpeas are mixed with:
Vegan Mayo (I used veganaise)
A little dijon mustard
Dill pickles
Red onion
The salad also has:
Celery
Sunflower seeds (these add a lovely crunch and taste)
Capers
Splash of Apple Cider Vinegar
Fresh Dill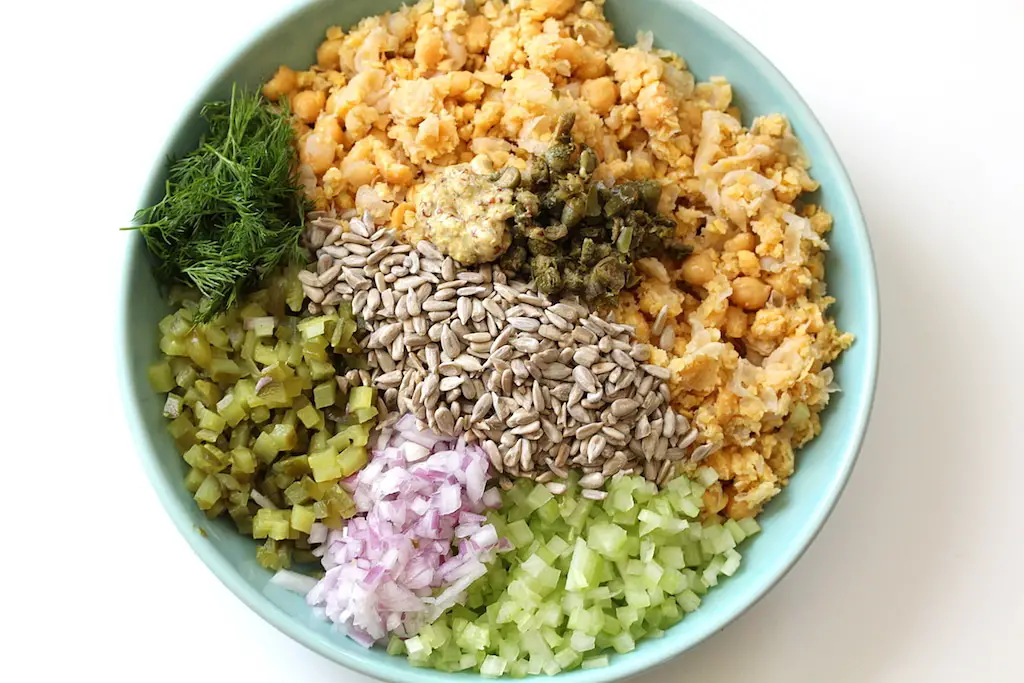 This recipe comes together so quickly! But what I really like about it is how versatile it is. No fresh dill? That's okay, I've made it without! No sunflower seeds? That's okay too – sub in pumpkin seeds, or just leave them out all together. It'll still taste great.
The seasoning is also something you can play around with. You can add more or less apple cider vinegar for tang, more capers for salty yumminess, more pepper for spice – anything goes!
Also – I don't want to brag or anything, but that bread right there? That is homemade vegan and GLUTEN FREE sandwich bread! It's SO delicious and I cannot wait to share the recipe with you one day soon. When I do, I'll come back here and link to it so you can make it as well.

How to serve Vegan Chickpea Salad Sandwiches
When I was younger, there was a little cafe nearby my home that we would sometimes walk to for breakfast or brunch. When I was slightly older, but before I was vegan, I would sometimes go with my best friend. I always ordered the tuna melt sandwich. It was SO good. They served it with melted cheese (I want to say it was cheddar but I honestly can't remember) and then a fresh slice of tomato on top. It was perfect.
That is how I like to enjoy my vegan chickpea salad sandwiches: open faced, with vegan cheddar (I like the Sheese brand cheddar for this), and fresh slices of tomato right before serving.
Of course, you don't have to eat it that way. You can most certainly make a traditional sandwich out of it with lettuce, tomato, and toasted bread. The vegan chickpea salad also makes a great snack with crackers!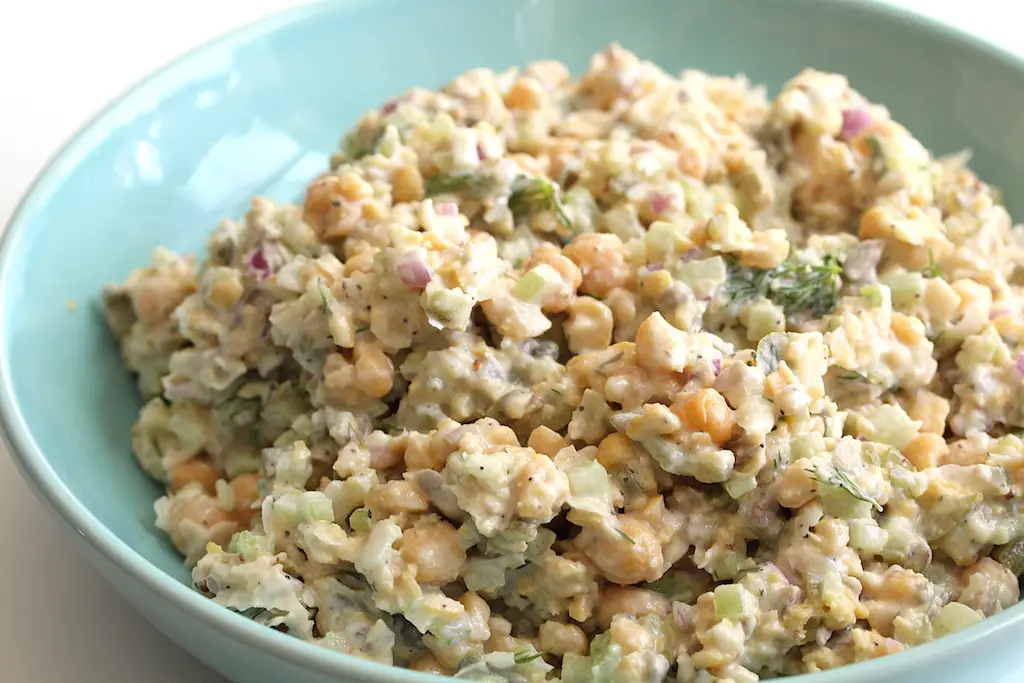 Check out these other vegan recipes using chickpeas or aquafaba!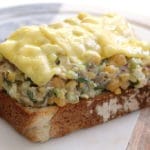 Vegan Chickpea Salad Sandwiches
These vegan chickpea salad sandwiches make an easy, protein packed plant-based lunch! It's full of fresh dill, crunchy celery, pickles, onions, and more!
Keyword:
Chickpeas, Easy, Gluten Free, Lunch, Vegan
Ingredients
For the Chickpea Salad
1

19-oz can of chickpeas, drained well

1/2

cup

diced celery (about 1 stalk)

1/2

cup

diced dill pickle (1 large, or 3 small)

1/3

cup

diced red onion

1/4

cup

sunflower seeds

1

tbsp

chopped capers

2

tbsp

fresh dill, optional

1/4-1/3

cup

vegan mayo (I used veganaise)

1/2

tbsp

dijon mustard

1/2

tsp

apple cider vinegar

1/2

tsp

each of salt and pepper, or to taste
To Serve
slices of toasted bread (vegan + gf if needed)

vegan cheddar cheese

sliced tomatoes
Instructions
Make the Chickpea Salad
Before you begin, make sure the chickpeas are drained well. I even pat them down with a paper towel to remove extra moisture.

In a large bowl, mash the chickpeas. Don't mash the chickpeas completly, you want to have some larger pieces of chickpeas in there.

Add in the rest of the chickpea salad ingredients and mix well. Add salt and pepper, to taste, and if you want a little more tang you can add an extra 1/2 tsp of apple cider vinegar.
To Serve
Serve the chickpea salad on toasted bread. I like to melt some cheese on top and then finish with fresh slices of tomato. You can also make it into a sandwich with lettuce and tomato. See the post for more ideas!