I know, I know. It's been awhile. I went on a cooking frenzy and loved it, but I just haven't really gotten around to sharing things on the blog. I have seen some really cool recipes for vegan fish alternatives lately, so I thought it's about time I share my own! At a vegan restaurant in Montreal, I tried jackfruit in sushi and was blown away. I had to try it and make something worthy of sharing with you all. And so I present, vegan Spicy Jackfruit Sushi!
I made this sushi for my partner and I on Valentine's Day and we both really enjoyed it. The texture of the jackfruit changes up the typical veggie-centric vegan sushi options. Am I the only one who is getting tired of only being able to order avocado and cucumber rolls?
Since I am leaving Montreal at the end of April (EEE!) I will, unfortunately, be leaving a city with a plethora of great vegan joints. While Winnipeg is great, it does not have an all-vegan sushi place. So I have to take things into my own hands, or well, kitchen.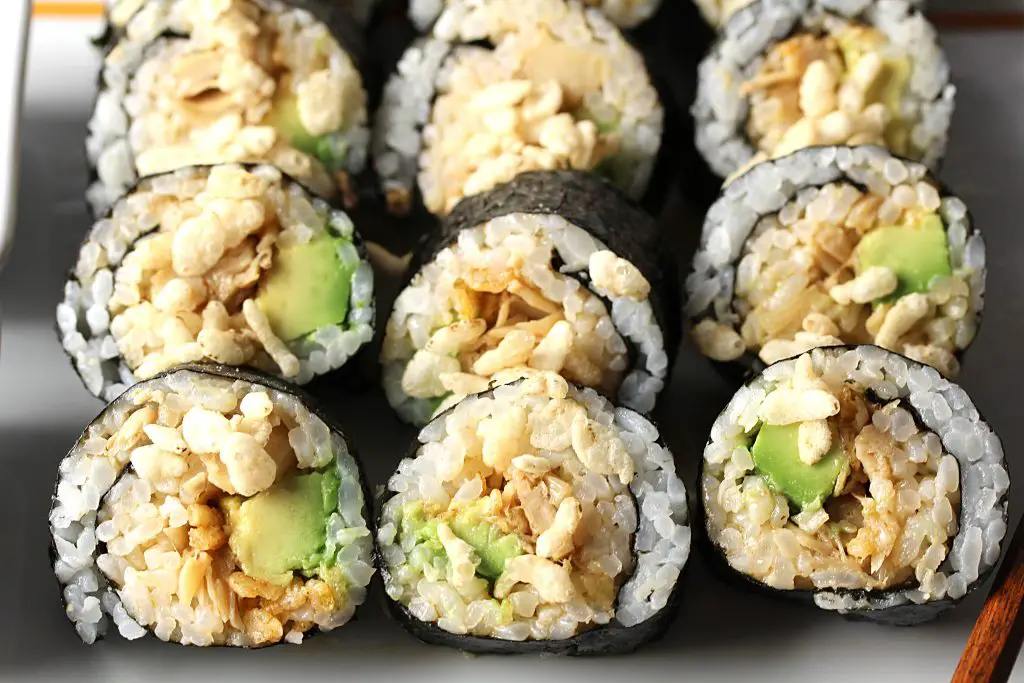 To make this sushi, you'll need your typical nori and seasoned sushi rice. You'll fill it with a spicy jackfruit, some avocado, and some gluten free, vegan rice crispies (what?!). Let me walk you through this recipe step by step so you know why it all comes together so perfectly.
1) The jackfruit filling: Making this filling takes some work, but not too much! After you have washed and de-cored the jackfruit, I highly recommend boiling it with some seasonings. Once you cooked it in this mixture of tamari, nutritional yeast, and sriracha, you'll strain it, rinse it, and squeeze all the liquid out. Why? I find that it helps remove the sweet and briny flavour of the jackfruit. Once the jackfruit is cool, mix it in with the mayo, more sriracha, and sesame oil. Don't like jackfruit, or don't have access to it? Replace it with tempeh that has been steamed and crumbled.
2) Avocado: Because, duh? Creamy, delish, and packed with nutrients.
3) Rice Crispies: Okay, let me explain this one. It is so nice to have a crunch in this roll! And, who has the time to make tempura flakes? I'm not even sure you can find gluten free tempura flakes. If you're unsure about putting them in the actual roll, try topping a piece with some before you serve it.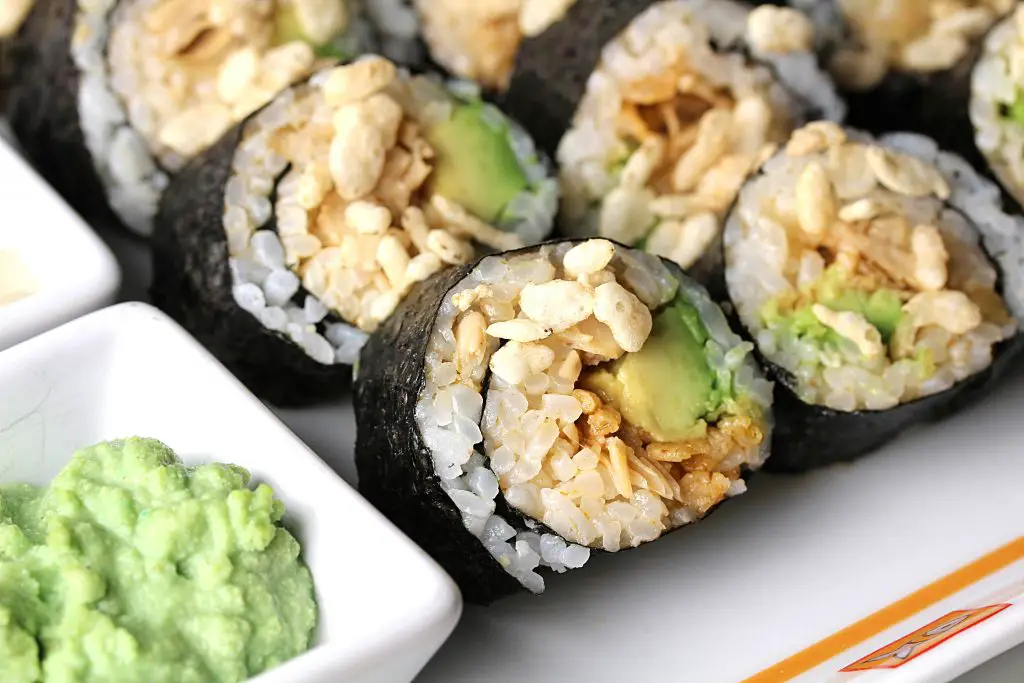 I am no sushi making expert, as you can see by the photographs, so I don't really have any tips for you other than watching some how-to videos. Have fun with it, though! Sushi does not have to look perfect to taste delicious.
Note: You can also use the leftover jackfruit filling to make a delicious sandwich! Top with avocado and lettuce, and enjoy!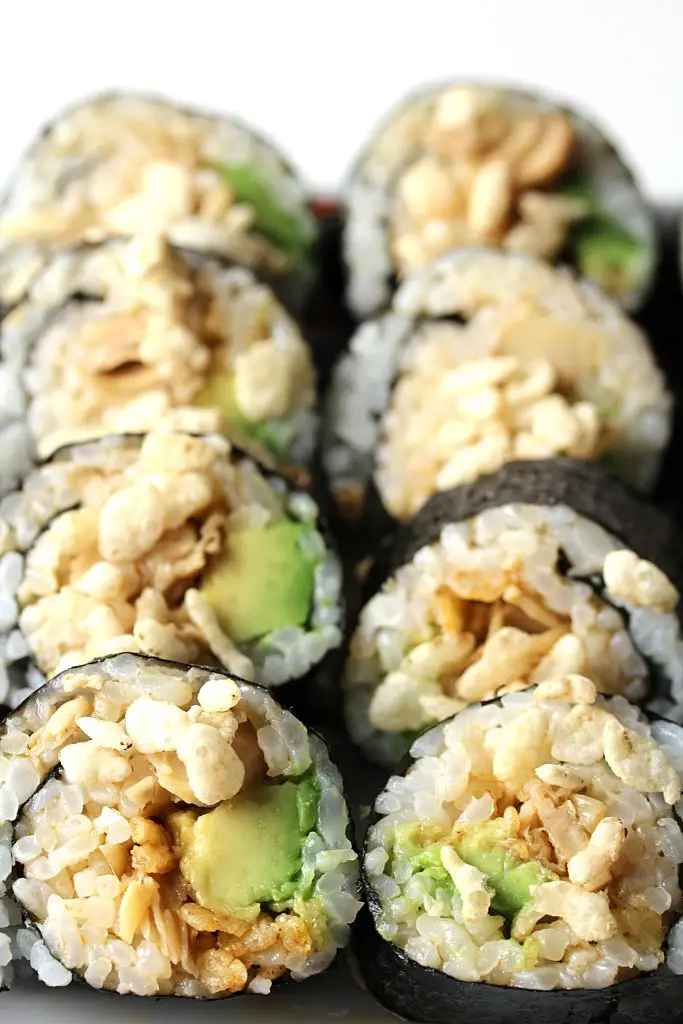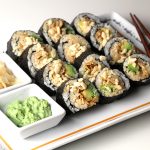 Spicy Jackfruit Sushi [V + GF]
Ingredients
For the spicy jackfruit
1

can

young jackfruit, in brine

1

tbsp

tamari or gluten free soy sauce

2 1/2

tsp

Sriracha, divided

2

tbsp

nutritional yeast

1/4

cup

vegan mayo, store-bought or homemade*

1 1/2

tsp

sesame oil
To assemble the sushi rolls
4

sheets of nori

2

cups

prepared sushi rice**

1

avocado, sliced

1/2

cup

gluten free rice crispies
Instructions
For the spicy jackfruit
Remove the core from the jackfruit pieces and rinse well, breaking up the jackfruit so it is stringy.

In a saucepan, cover the jackfruit with water. Add in the tamari, 1 tsp of sriracha, and nutritional yeast.

Simmer the jackfruit for 15-20 minutes.

Remove from heat and rinse the jackfruit. Squeeze out excess liquid. 

Mix the jackfruit, mayo, 1 1/2 tsp of sriracha, and the sesame oil together in a bowl. Refrigerate until ready to use.
To assemble the rolls
(As you can tell from the photos, my sushi rolling is not the best. I suggest watching some youtube videos if you have never made sushi before!)

Place the nori on a sushi mat and spread 1/2 cup of prepared sushi rice on the nori. Place 1/4 cup of spicy jackfruit, 1/4 of the sliced avocado, and 2 tbsp of rice crispies horizontally, close to the bottom of the nori.

Roll the sushi. Use some water to help the edge of the seaweed stick if needed.

Slice the sushi roll into eight pieces. The ends never are pretty, so I always eat those to "test" the recipe.

Serve with ginger and wasabi. Sprinkle the rolls with more rice crispies, if desired. 
Recipe Notes
*Check out my recipe for homemade mayo!
**Follow the directions on the sushi rice package. You'll need rice vinegar, sugar, and salt. Sometimes I find the sushi rice has too much vinegar, so add half the amount, test it, and then slowly add the rest as desired.