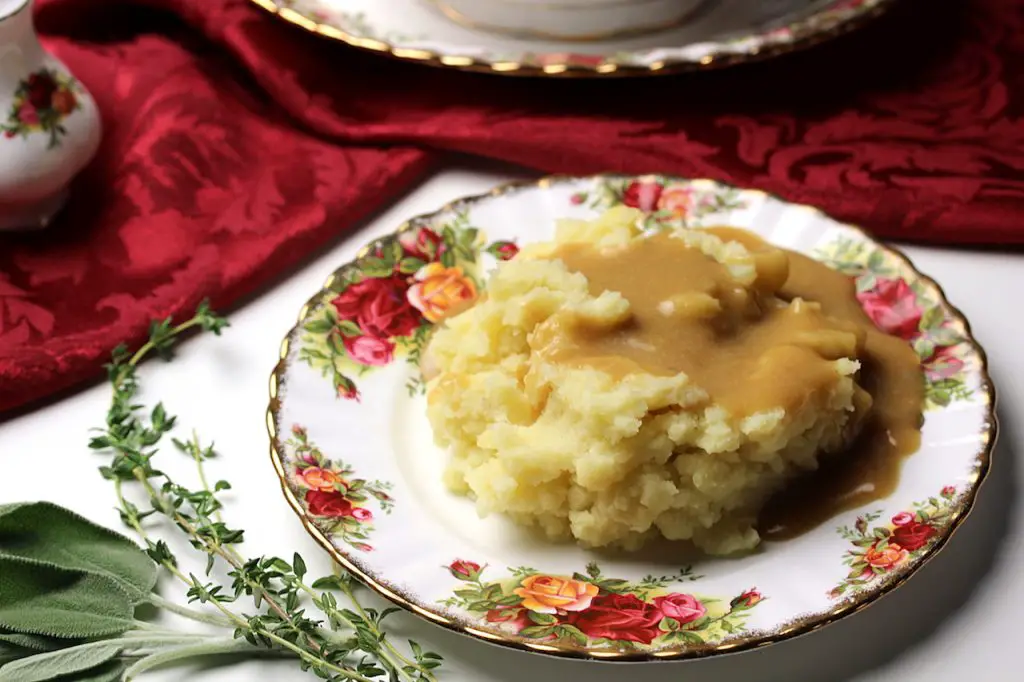 Is there anything better than gravy? It's the crucial component to so many dishes: Christmas and Thanksgiving meals, mashed potatoes, poutine…. the list goes on! But, for us vegans and/or celiacs, gravy can be a frustrating and challenging thing to make. That is why I have worked hard to bring you the ultimate vegan and gluten-free gravy!
I have been sitting on this recipe for a very long time. I've been making it for 2.5 years now. The right moment to share it never really presented itself. But it has now, because of Garfield.
I'm sure you all know by know that I love Christmas and I love any holiday themed TV special or movie. Which is why I started the blog series A Perfect Match where I will be pairing recipes with holiday films and specials! One of my all-time favourites is the Garfield Christmas Special, which is why I decided to watch it for the first post of my A Perfect Match blog series! And why gravy, you might ask? Look below!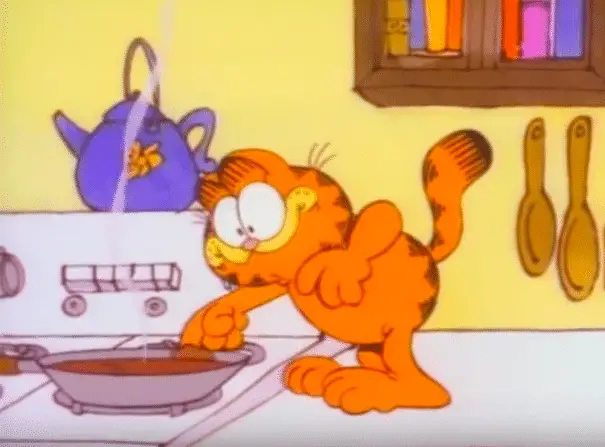 Garfield Christmas Special + the Ultimate Vegan Gluten-Free Gravy
This scene in the Garfield Christmas Special has always been one of my favourites. I remember being a kid and the smell of Christmas dinner being made was literally intoxicating. I was a total Garfield and would sneak into the kitchen and test whatever was being made. Gravy was often made last, so my favourite thing to taste was always the stuffing. Bread, butter, onion, celery, and poultry seasoning – what is more delicious than that? Well, one might argue that this gravy is!
Another great thing about this vegan and gluten-free gravy is that it's easy to make! You might see a lot of ingredients down below, but the beauty is there is hardly any prep work involved. All you have to do is throw the ingredients (except for the corn starch) into a pot and let it simmer! I promise – you hardly even have to chop. You're essentially making a really flavourful, rich broth. No dicing required! It's also great because you can get it all prepared and simmering while you prep the rest of your meal. You only need a couple minutes to whisk in the corn starch to thicken the gravy right before serving it.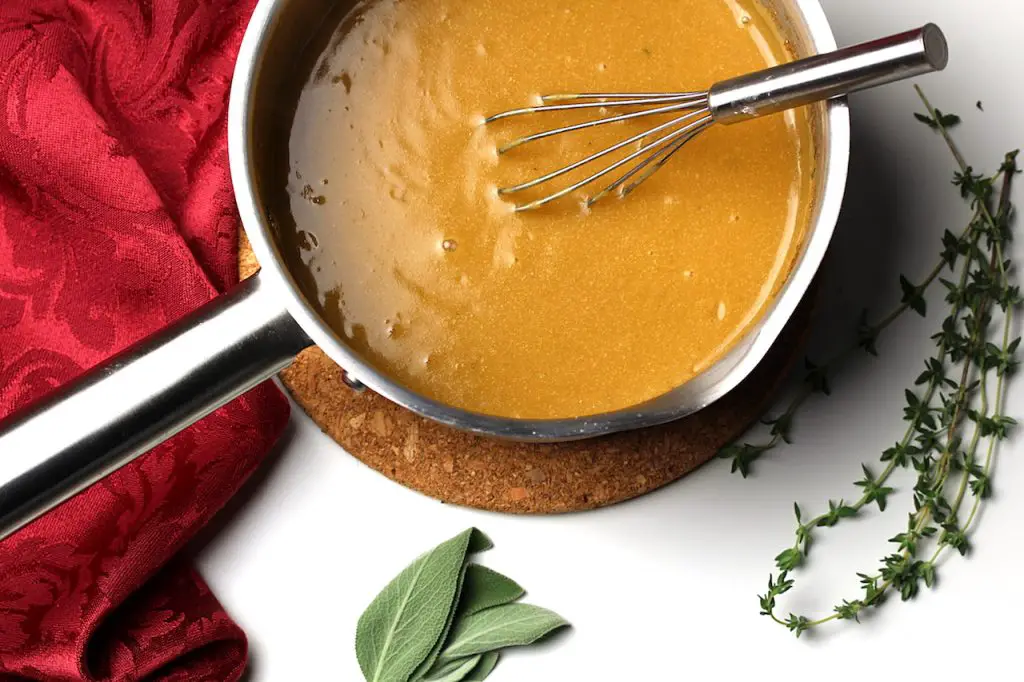 Making the base of this Ultimate Vegan and Gluten-Free Gravy
The broth that you are making is the base of this ultimate vegan and gluten-free gravy. That is why it needs to pack a ton of flavour! Let's take a minute to talk about ingredients:
Broth: You should start with a really good broth that you can build off and enhance; I recommend Harvest Sun bouillon cubes – I don't use any other kind! (obviously don't buy the chicken broth if you're vegan!)
Onions and garlic: Can you make a broth without them? I don't think so!
Tamari and nutritional yeast: These ingredients add depth to the flavour of the broth; the tamari add a savoury-ness while the nutritional yeast adds a little bit of creamy-ness to the base of your vegan gravy.
Sage, thyme, and bay leaves: These herbs are what really give your vegan gravy the right flavour.
Vegan butter: I don't think I have to explain this one, do I?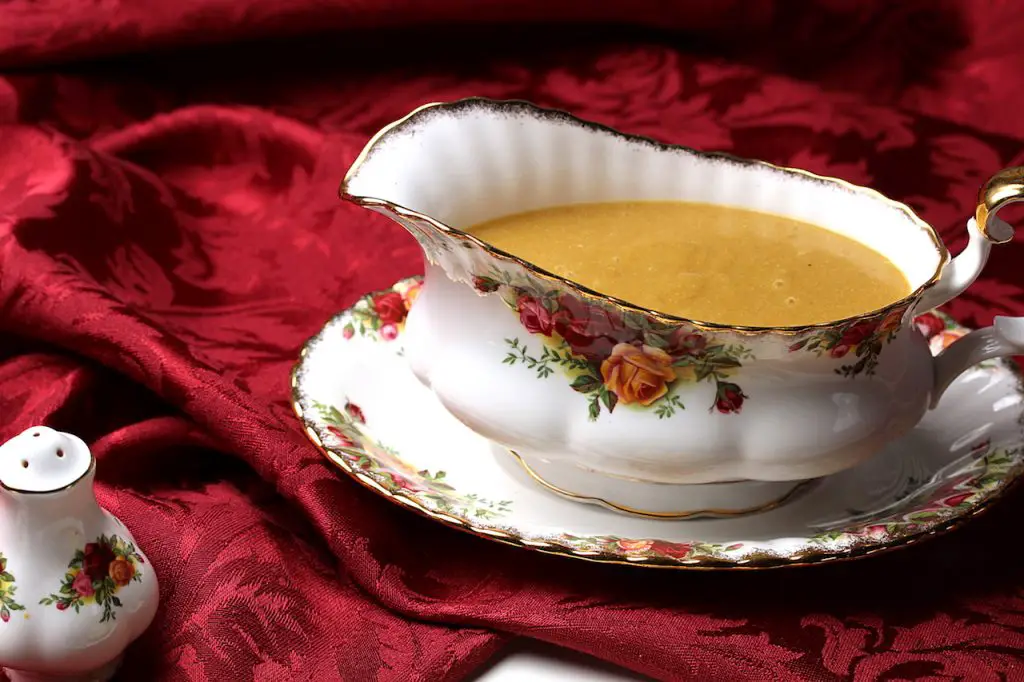 Spice it up?
Totally! Just like grandma here, feel free to change up the spices in this recipe! Grandma puts chili powder in this one, but I might suggest some Sriracha or cayenne/red pepper flakes to add a kick. That being said, I adore (and I mean ADORE) this recipe just the way it is. You could definitely add some rosemary to that blend of spices, though. Anything that really fits into the poultry seasoning family would taste delicious in this recipe.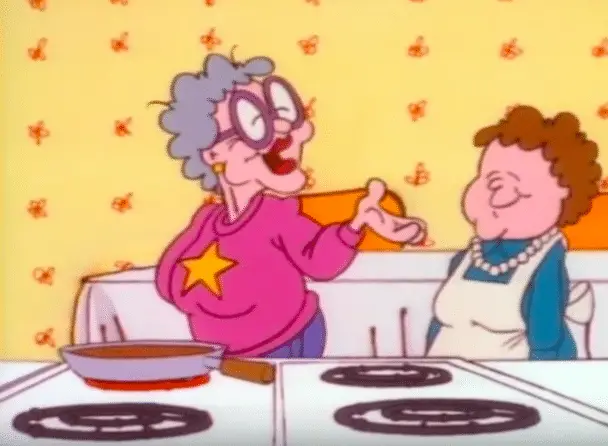 Why is this the Ultimate Vegan Gluten-Free Gravy?
This is a good question. There are many great vegan and gluten-free gravies out there, but to me, this recipe is the best one. So many vegan gravy recipes get flavour from mushrooms or miso. Don't get me wrong, I love mushroom and miso gravies. But, I really wanted to make a gravy that was as close to "traditional" (or at least, traditional for me!) meat- and flour-based gravy.
I really wanted to make a vegan and gluten-free gravy recipe that could be versatile, and one that would pair well with your Christmas dinner! That's why you'll find it is packed with poultry herbs but is not over-powering, either.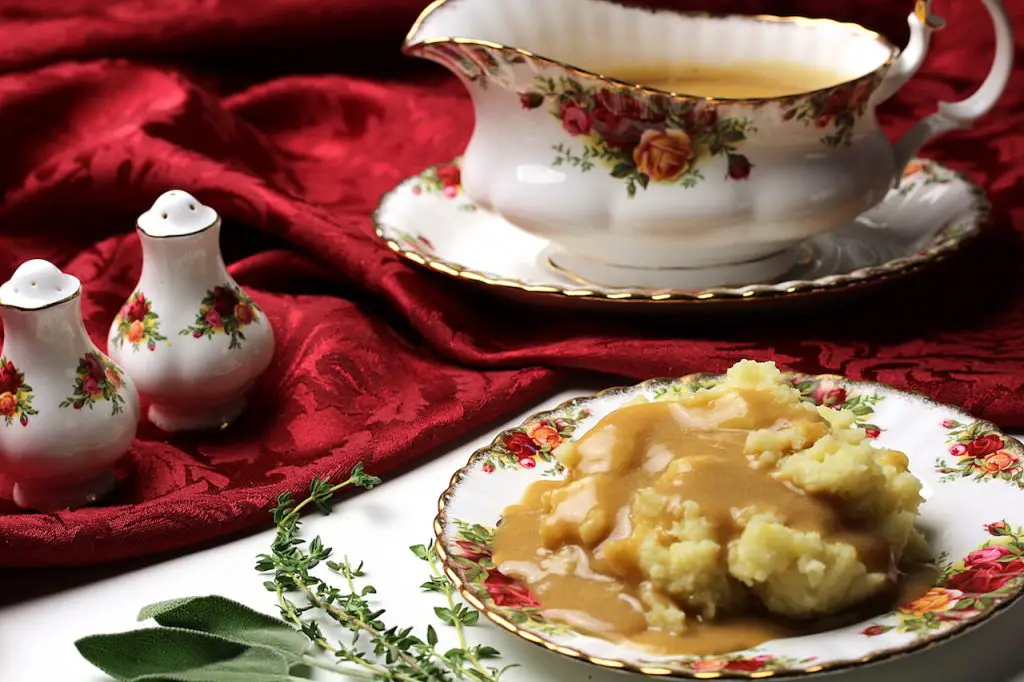 Also, if it isn't obvious – this recipe is not just for Christmas! I know I went with the Christmas theme with serious intensity in these photos, but this gravy is great for so many different things!
Like, for example, vegan and gluten-free poutine!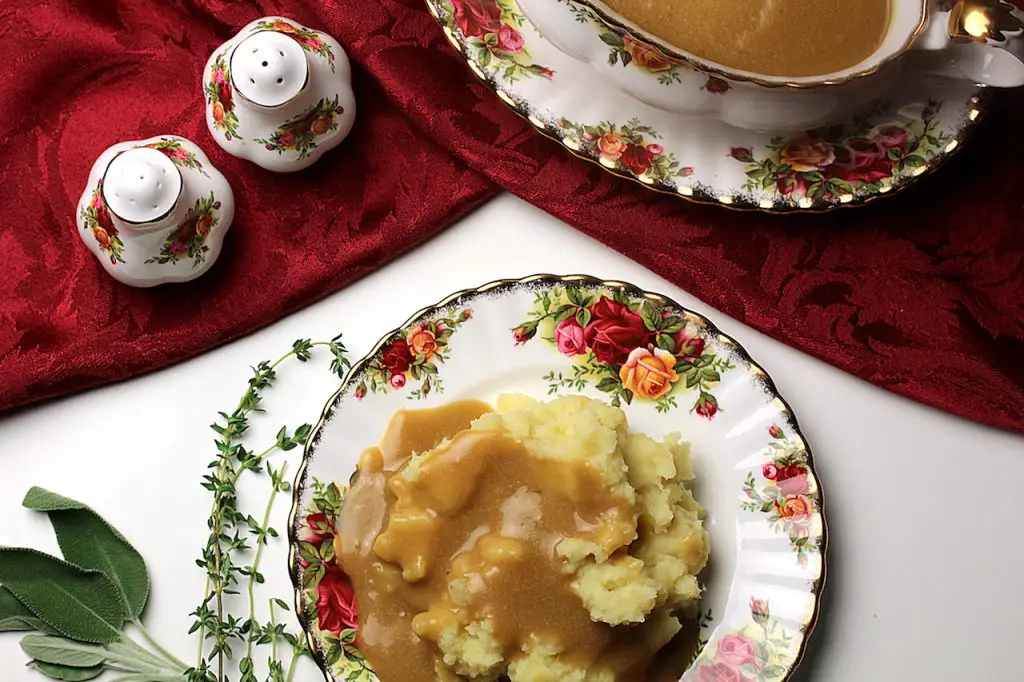 I hope you will take the 23 minutes and 33 seconds to watch the Garfield Christmas Special. Even if you aren't a fan of Christmas, it's such a sweet special. I watch it every year, and every year I cry. It's the moment when Garfield sits on his Grandma's lap on Christmas Eve when she is missing her late husband, ahh — it gets me every time! The entire special is available to watch for free on youtube.
And so, to start my blog series on Christmas movie and recipe pairings, I want to say (in the words of Garfield):
"Christmas. It's not the giving. It's not the getting. Its the loving."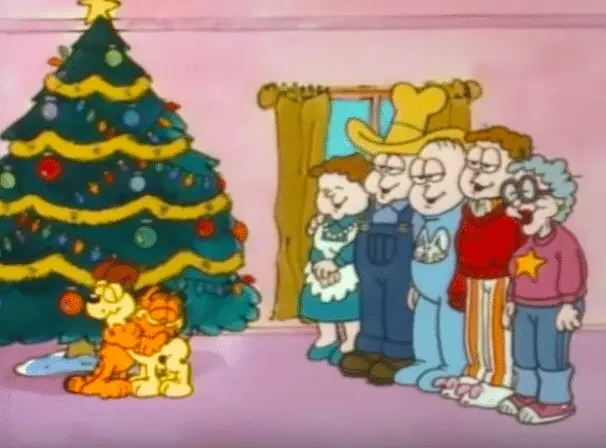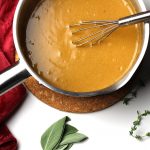 The Ultimate Vegan and Gluten-Free Gravy
Okay folks - this is it, the vegan and gluten-free gravy you've all been waiting for! All your favourite gravy flavours are simmered into a savoury broth that is thickened with corn starch. All your vegan and gluten-free poutine, mashed potatoes, and just general happy dreams will come true.
Servings
:
2
cups, approximately
Ingredients
2

cups

broth

1/3

cup

nutritional yeast

2

tbsp

tamari

6

sage leaves

6

sprigs of thyme

1

bay leaf

1

yellow onion, quartered

2

cloves of garlic, quartered

2

tbsp

vegan butter

3-4

tbsp

corn starch + a couple tbsp cold water
Instructions
In a medium pot over medium-high heat, bring all the ingredients except for the corn starch to a boil.

Turn the heat down to low, and let the broth simmer--covered--for roughly 30-45 minutes. It'll still taste great if you only have 15 minutes to simmer, but use that extra time if you have it.

Strain the broth, making sure to squeeze out all the broth and juice from the onions. Place the broth back over low heat.

In small dish, mix the corn starch and a couple tablespoons of cold water. Once it is all dissolved, slowly whisk the slurry into the broth.

Continue to simmer until the (now gravy!) thickens, about 2 minutes.

Serve immediately and enjoy!!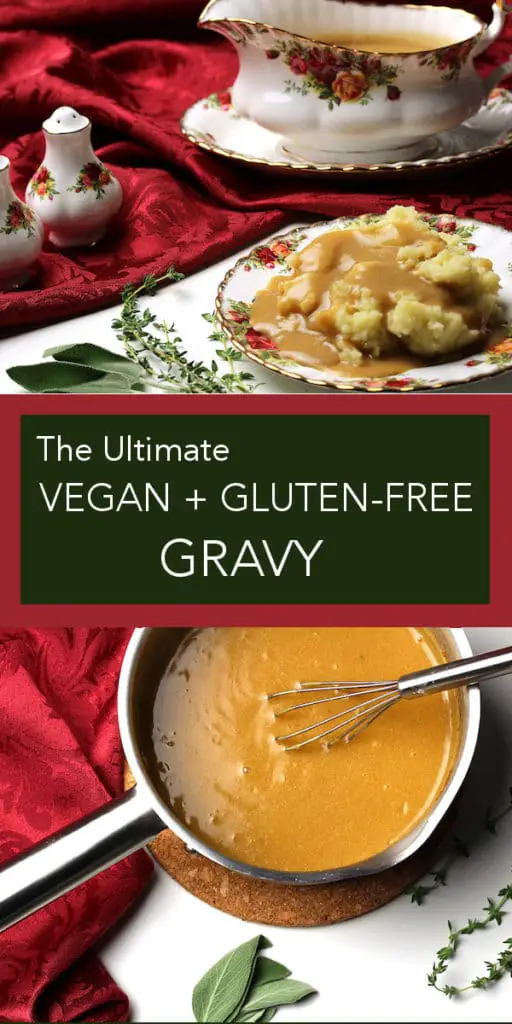 The holiday season can be a really difficult time for many people. If you or someone you know is experiencing depression, anxiety, suicidal thoughts, or any other mental health crisis, please reach out for help. This link will take you to a list of resources available depending on which province in Canada you reside; Kids Help Phone has a crisis text line for Canadians, text CONNECT to 686868 or call 1-800-668-6868 for 24/7 support; If you live in the US, text HOME to 741741 for 24/7 support; You can also click this link to find crisis supports in various countries.